Buddhism online? There's lots of it.
Zen Buddhism online? Well, most of that has lost its' Zen due to the Japanese offshoots.
Zen Buddhism = Buddhism plus exercise. Sure, there's a lot that has been added to it in the last 1,000 years, but by removing the exercise, they're just lazy monks again.
Currently, the www.shaolinZEN.org website is our Shaolin Zen CyberTemple, with over 100 pages of Buddhism Basics, and Disciple Pages.
Our meditation training is not to teach you to search for "nothing" or "nothingness."
Zen Buddhism is the search for "something."
As Shaolin Zen Patriarch, I am recording podcasts that will lead you to where Zen intended.
Check out the LIST OF PODCASTS: www.shaolinpodcast.com
Subscribe to the ZEN BUDDHIST PODCAST OF SHAOLIN ZEN at iTUNES.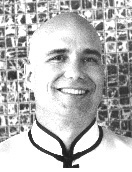 For questions and suggestions, contact me at:

Welcome to the foundation of shaolinZEN.org,
Cybertemple of Shaolin Zen.
Our goal is to show you how to find and create Zen in your daily life.
The following LINKS will guide you through the shaolinZEN.org CyberTemple website: